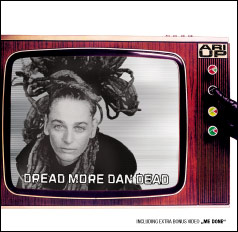 THE LOW DOWN:
Queen of the punky reggae party scene, the outernational superstar known as Ari-Up is an extraordinary and provocative artist. Her commanding stage presence and agile steppers dance moves are as unique as her distinctive crown of tumbling dreadlocks and the sexy, flamboyant fashions she designs and rocks on and off stage. Memorable and original, Ari's sound is as fresh and futuristic as her style.
"My music is extreme stuff," clarifies Ari. "It's the offspring of reggae, which was rebellious outlaw music, mixed up together with dub, dancehall, drum'n'bass and hip-hop and . . .the attitude of the Slits." - London's pioneering wild girl punk band that she fronted in the 1970s at the age of fourteen.
The concept of Ari's delicate pan-urban brew evolved between Jamaica and the extremes of New York's progressive music spectrum, in dives on the Lower East Side, Brooklyn and Williamsburg.
All the remarkable life experience and idiosyncratic phases of Ari's colorful existence are captured in her forceful solo material, like the sharply autobiographical tunes Baby Father and True Warrior, the anthemic Kill Them With Love and the eternal innocence of The World Of Grown-Ups. Each song has the colorful clarity and catchiness of a nursery rhyme or folk song, embedded in a truly contemporary fusion of dub steppers and the rhythms of today's global urbanism.
Ari has earned the authenticity to manufacture and own such an eclectic, edgy sound. Her remarkable life is an unpredictable saga that flows from the basement punk clubs of London, to the bashment dancehall sound system sessions of downtown Kingston, where she's a regular on local TV shows, known as Madussa, the sinuous deejay-dancer with the legendary Stone Love sound.
Ari has always been an original since she helped kick-start the Slits. "Punk was like rock, with that guitar, and we didn't fit into it. Even our early punk stuff was very tribal sounding," she recalls. "It had the bass and drum thing strong in there. We were many decades ahead of our time, and we had an influence; we put heavy bass and drums and the dub vibe into the so-called white world." The Slits' flavorful, sardonic, brutally real songs like Typical Girls and Shoplifting, still stand as classics of their era. Ari's distinctive, urgent vocals were also a feature of producer Adrian Sherwood's experimental reggae project, New Age Steppers.

Label: Collision
Catalog #: CCT3002-2 / CCT3002-6
Formats: CD/12"
File Under: Dancehall/Reggae
CD UPC Barcode: 673795000229
12" Vinyl-
UPC Barcode: 673795000267
Release Date: 23.06.2005
CD Box Lot: 25

KEY SELLING POINTS:
• First studio/solo album by the legendary
Ari Up from The Slits.
• CD includes Bonus VIDEO
• Liner notes by Vivien Goldmann

TRACKLISTING:
CD
01. Baby Mother #
02. True Warrior
03. Exterminator #
04. Me Done
05. Young Boy
06. Bashment feat. LA Lewis #
07. Kill Em With love
08. Allergic feat. Terranova
09. Can't Share
10. Can't Trust The Majority Mass
11. Baby Mother (instrumental) … clash
contest… #
12. Me Done (vocal only version) …clash
contest…
13. Bonus: CD Video – Me Done

# = Vinyl Tracks



Pure artistic impulse and individuality have always guided Ari's choices. "In the 1980s yuppie years, I went retiring, living naked in real heavy jungle in Belize," Ari recalls. "There wasn't any money to spend in the jungle." The excitement of Jamaica's dancehall scene drew Ari back to her old Kingston haunts in the early 1990s, where she started developing the music that has now found fruition. Truly a rebel soul, Ari is always in the forefront of global sound system creativity, melding the sounds of today's different cities into her own wicked riddims.
"Dancehall is really a continuation of punk without them knowing it," she observes of the scenes that have shaped her and that she helped shape.
"They both go crazy with clothes and hairstyles and that same attitude: we don't give a damn, leave us alone, we do what the hell we wanna do. We run our own world."
-- Vivien Goldman (New York City 2005)