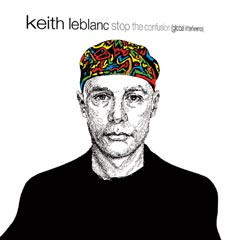 THE LOW DOWN:
Keith LeBlanc started out as a session drummer with Sugarhill Records, early 1980's. He formed the Sugar Hill House Band with fellow Americans Doug Wimbish (bass) and Skip 'Little Axe' McDonald (guitar), working with leading rap artists as The Sugarhill Gang (Rapper's Delight) and Grandmaster Flash and Melle Mel on The Message and Freedom.
From his own Malcolm X No Sell Out, the first ever sampling record, on Tommy Boy Records (1983) to his involvement in creating the sound of funk noise giants Tackhead with Wimbish, McDonald and British dub producer Adrian Sherwood, he has gained recognition as one of the top and most innovative drummer/programmers around.

STOP THE CONFUSION is a "werkschau" of this great talented drummer, producer and soundologist...! S.T.C. shows the wide range of Keith Le Blancīs production flavour. From Reggae to Industrial to Hip Hop and back to Cyber Funk. His drumming is outside the conventions, the product of man and machine, clashing and intertwinning captivating complexity. S.T.C. shows his unique style, integrating output of sampler and drum machine at opposition with traditional skins, has profoundly shaped the development of rap, hip hop and dance rhythms of contemporary pop music. Guestvocal apperances by Bim Sherman, Melle Mel, Andy Fairley...and collaborations with Tackhead, Tim Simenon and Interference (Bonjo, LA Mode, Kenji Jammer, Dough Wimbish)

Apart from his work as member of the legendary On-U Sound posse, Keith LeBlanc has continued to experiment with new sound using his own Blanc label as a base from which to release pioneering albums and push musical boundaries even further. Apart from that he made seven sampling cd's so far for the Advanced Media Group with loads of drum sample and sound effects, free for anyone to use. His writing and production skills have attracted the likes of Living Colour, Peter Gabriel, The Cure, Ministry, and Nine Inch Nails. As a drummer/programmer he has worked with everyone from James Brown to Trevor Horn, Seal to R.E.M., The Rolling Stones, Annie Lennox, Jalal (Last Poets), The Stone Roses, Robert Palmer and Bomb The Bass. He also produced Charles & Eddie's hit record Would I Lie To You, along with Tim Simenon of Bomb The Bass.

Michael Stipe (REM): Keith Le Blanc is a revolutionary. House God Head with a benie cap on. He rules my roost.

Label: Collision
Catalog #: CCT3003-2 CD /Groove Attack
18 Tracks - 79 Minutes playtime
limited edition of 3000 CD copies worldwide)
(all products are paginated and strictly limited)

TRACKLISTING:
CD
01. KLB - Whatever 1:44
02. KLB & Interference feat. Melle Mel/Be La Key - What Order 4.23
03. KLB & Bim Sherman - The Beast 4:04
04. KLB & Bim Sherman - Green Theory 3.50
05. KLB & DJ Spike - Story Of Violence 4:08
06. KLB & Tackhead -Technology Works 4:27
07. KLB - Steps 5:50
08. KLB & Tim Simenon - Stop The Confusion 3:06
09. KLB & Interference/Andy Fairley - Tree 2:37
10. KLB & Interference - React Like This 5:45
11. KLB & Interference - Remote Control Dub (Adrian Sherwood Dub) 5:31
12. KLB & Bim Sherman - Time Out 4:10
13. KLB & Bim Sherman - Sleepy Head 4:06
14. KLB & Bim Sherman - Vision 5:12
15. KLB & Tackhead - Repetition 4:19
16. KLB & Tackhead - The Dentist 4:02
17. KLB & Tackhead - Tackhead Dub 3:15
18. KLB - Tack Unit (extended interference - friday the 13th version) 6:39
19. KLB & Tasteless Cuts - Stick Out 2:07