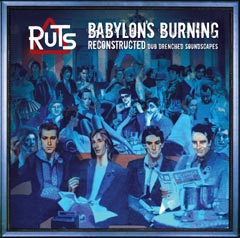 THE LOW DOWN:
The Ruts meld the Pistols' instrumental attack with leader Malcolm Owen's Strummeresque bellow; while less inspired than either of those bands, the Ruts started out with far more finesse. True to their early association with reggae collective Misty in Roots (sponsor of their first 45 - which sold 20.000 copies), the Ruts often incorporated reggae riffs - adeptly, not heavy-handedly and without missing a single roughshod 4/4 stride. Simple, straightforward political lyrics are heartfelt but not strident.

The Ruts, like so many were born out of a pub rock band. This one was called Hit & Run that Dave Ruffy & Paul Fox played in. Ruffy was on bass, Paul on Guitar and Paul Mattock was on drums. Malcolm Owen, a friend went with them on August 1977 to a rehearsal in Rotherhite as a singer without knowing if he could sing!! Something clicked and 4 songs came out of it. Rich Bitch, Lobotomy, I Ain't Sofisticated and Out Of Order. When Paul Mattock (a soul music fan at heart) left Vince Segs, a Hit & Run Roadie, joined on bass and Dave Ruffy moved to the drums. The Ruts classic line up was complete.

Their first gig was at a pub The Target in Northolt and their first Rock Against Racism gig was with Misty at Southall Community Centre. "It was a shambles but it was fantastic. There was all these pogoing pakistanis". By no means political or militant, RAR was a means to an end for The Ruts while at the same time showing an alternative to the National Front.

With massive support from John Peel (Joy Division and the Ruts were BBC DJ John Peel's two favorite bands from that era...) they signed with Branson´s Virgin Records and released Babylons Burning (originally entitled "London's Burning" - the single was an awesome slice of Punk-Pop, hittings nails on the head that most Punk bands of the time didn't even get close to. which rocketed in summer 1979 them to a top 7 position and two "Top Of The Pops" "glamour" appearances...!

More hits followed till shockingly Malcolm Owen was discovered dead from a heroin overdose. The one thing you notice though is the vein of sadness and irony in the lyrics that runs through some of the songs most obviously 'Love In Vain','H-eyes', 'West One' and 'In a Rut'. Malcolm was a heroin user before The Ruts but turned back to it after his wife left him... Malcolm Owen died on July 14th 1980 aged 26 .

The Ruts "live" were fast, raw and very sweaty and Malcolm Owen was a livewire on stage.....an excellent frontman with a brilliant voice who channelled the intensity of the music which is why The Ruts DC ( the Ruts minus Malcom) were always doomed to failure. The demos tho are brilliant and makes Malcolm's death even sadder because they had so much potential.

Now 26 years later - Babylon´s Burning - the present: The choice of helpers and the stunning stylistic breadth of the tracks are the direct result of the universality of "Babylon's Burning". Although the album is not intended to be a one-riddim compilation, its corrosive impact lies largely in the repetition and analysis of specific subzones. Armed with the hypnotic, mantra-like power of the lyrics - "Babylon's burning / You're burning the street / You're burning your houses / With anxiety / Babylon's burning..." - this compilation of re-works, interpretations and adaptations possesses a strong sense of unity. The charm of the Ruts lay in a feverish collision between punk and reggae, further boosted by a subliminal, pulsating groove which was the direct legacy of the rhythm section's predilection for funk. Most of the artists on this compilation come from musical backgrounds that have followed similar overall patterns. It rests with Ruffy to open the round dance with a violin intro (1) followed by a classical update (2). Close on his heels comes Rob Smith from Bristol legends Smith & Mighty - who have been keeping a low profile recently - with his hypnotic "Steppa from Outaspace"-take on the song, entitled "Blues & Red RMX"(3). And if you don't learn to love this bass line, then there's no hope left for you in the soft, deep world of ultrasonic frequencies. Next up is legendary DJ and film director Don Letts, who approaches the material from a similar, albeit slightly straighter direction. His remix (4) sounds as if he were carving a dub plate for one of his wildstyle mix tapes. Lee Groves and Pete Marett, the future funksters and break-lads from Terminalhead, in past have been allowed to lay their hands on a host of entertainment giants, including Madonna, Geri Halliwell and NSYNC. Their rendition of "Babylon's Burning" (5) is more forceful and truer in spirit to the original, using sandpaper crackles and chunky breaks to dramatise the alarm level of the original. The effect is that of a clean, million-dollar budget action movie and is at its best when at its most spectacular. Driven by the same demons come Vom & Andy (Die Toten Hosen & Jon Caffery) who steer the song into a Remix (6) with a siren intro that gives the song more than just a smattering of hooligan festival compatibility. This is followed by bible-versed Cabbalists Babylon 23 and Apollo 440, both of whom leave their own unique mark on the original; one a clean version (7), the other a drum'n'bass soundtrack for the next Playstation racer (8). John Peel favourites Dreadzone weave a loop back to Don Letts, who without actually becoming a permanent member of this collective, was nevertheless an important source of inspiration, giving them their moniker back in 1992 and injecting a crucial dose of dread input. Their remix clients include modern bands (Skunk Anansie, Garbage), classic acts (King Tubby, I-Roy) and a host of leftfield colleagues Renegade Soundwave); their interpretation (9), faintly reminiscent of early Massive Attack, turns the inferno of the original into a cosy, smouldering fire. This track, the seamlessly follow-on delicacy by Black Star Liner (10) and the meditative workout by Groove Corporation (11) are all ideal sparks to flame the chill-out zone campfire. Back in the days when his name was Jean Yves Prieure and he had a mohican, Kid Loco played in a variety of French punk bands. Over the next few years he made a name for himself as an inspired DJ and musician, collaborating with bands like Pulp, Stereolab and Saint Etienne. Google's cute translation tool describes his "Strictly For Rockers Mix" (12), previously featured on the "Modern Wild Dub" compilation, as follows: "that begins as metalheavy good colouring, and changes themselves progressively in true Dub of the families" and then there's the slightly cryptic mention of a keyboard that "a little persistent corresponds to a beautifully limited guitar riff". In tribute to Jackie Mittoo, Kid Loco's minimalist keyboards give the compilation a hint of roots feeling before the buccaneers of globalisation, Fundamental, treat the original to a bit of multinational live-cell therapy in their "Dhal Cue Version" (13). The result more than does justice to the crew's reputation as "Ethno Punkologists". Cosmic Rocker, born as Sasha Crnobmja in Belgrade, brought up in Switzerland and emigrated to America, is not averse to crossing the odd green border in his musical outings. Founding member of the New York collective Organic Grooves and their label "Codek", he underscores the indisputable disco characteristics of the original in his "...This One RMX" (14). Remember: every cell and every cellar can be transformed into a disco. It's in your hands! Time to say goodbye with Turtle Bay Country Club's Arfmann-apple warehouse stylee and doubly boss "Main 1 RMX" (15), which includes side-trips to the lounge and mosh pit, before Savanarola from Italy temporarily finishes the compilation with his floating, beatless "Babylon Revisited RMX" (16). The future is uncertain. Babylon's still burning.

Label: Collision
Catalog #: CCT3002-2
2023 reconstructed & remixed dub drenched soundscapes...)

TRACKLISTING:
CD
Intro (Night vision version by Rob Smith)
01. Mark Wallis & Dave Ruffy rmx
02. Rob Smith (courtesy of Smith & Mighty) (Blue & Red rmx)
03. Don Letts Dub Cartel (under Dan Donovan control) rmx
04. Terminal Head rmx
05. Vom & Andy (Die Toten Hosen) & Jon Caffery rmx
06. Babylon 23 rmx
07. Apollo 440 rmx
08. Dreadzone rmx
09. Black Star Liner rmx
10. Groove Corporation rmx
11. Kid Loco (Strictly For Rockers Mix)
12. Fundamental (The Dhol Cue Version)
13. Cosmic Rocker (this one rmx)
14. Turtle Bay Country Club (Main1 rmx)
15. Savanarola (babylon revisited rmx)



Quotations by the Remixer:

We ask them quite simple three silly questions and got astonished about the answers:

1. Why was The Ruts the best punk rock band ever...??!!!
2. When did you listen Babylon´s Burning the first time...???
3. The difference between The Clash and The Ruts...?????


Kid Loco:

1. Don't know if The Ruts were the best Punk Rock band ever anyway their recordings still sound great. And I've got plenty of other records which sound pretty crap today...
2. Around its original release date I guess, still got the 7'' single. Years later I interviewed them for a French fanzine. Actually I didn't ask any question but I was there listening.
3. Two guitars.

Rob Smith (Smith & Mighty)

1. The RUTS were a successful combination of punk and reggae.. great songs with heavy rhythms.
2. The first time i heard B.I.B. must have been on the John Peel show on radio one.. he was a great supporter of the RUTS.
3. for me, the clash and the ruts were both important. they both acknowledged reggae as a vital sound.. each had their own angle.. the ruts could blend reggae with punk quite effortlessly.

Vom & Andy (Die Toten Hosen)

1. Andi and Vom: Yes , we are both big fans of the Ruts , and although we cannot say they are best punk band from that era , they are definately in our top 10
2. Andi : the first time i heard Babylon's Burning was on BFBS on the John Peel show . Vom : my first time ( oh oh oh ! ) was when I was pogoing at the local youth club disco . We both went out and bought it the very next day.
3. Andi and Vom : that's a difficult question as the songs and musicians in both bands were fantastic . Their music was equally socially aware with aggressive styles and attitudes . We suppose on reflection , the only major difference was that the Clash lasted longer and made more records . Both classic bands