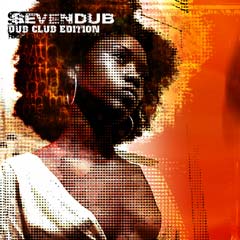 THE LOW DOWN:
Seven Dub shows how sexy dub can be. Miles Davis, Herbie Hancock, Sly Stone, Georges Clinton and the Parliament, Norman Whitfield, Lee Scratch Perry,Sly & Robbie...this musical backround inspired P.Bylebyl & G. Metenier (aka Seven Dub) for their musical revolution that started at the end of the 90's.

Since then, the Paris based Seven Dub made great a reputation as dance act in the last 5 years. In particular their various sampling contributions have added to their cachet. Whether on Hifi Dub Sessions Vol. 1 (released on Chicago's remarkable house label Guidance), on the exquisite sampler King Size Dub (Echo Beach), or on the Midnight Snack Sampler (New York's Naked Music), Hotel Costes vol.1 (Wagram), - Seven Dub delight with a most modern mix of house, jazz, dub and an unerring feel for all that is groovy. When they signed ages ago on Paris label PRO-ZAK, Patrick Bylebyl and Guillaume Metenier already had been active for several years as musicians for Babylon Fighters and Les Satellites.

Even then they had cultivated their predilection for black music. Which is the reason why they lent a helping hand as studio musicians to Paris based Jalal Nurridin and his mates of the legendary first US rap band Last Poets, during production of the Scatterap/Home album. In the meantime they have become sought-after session musicians throughout France and earned respect all-around with memorable remixes (Femi Kuti, Manu Dibango, Silent Poets, Horace Andy, Dubblestandart vs Sly & Robbie). Their debut "Rock It Tonight" was released all over the world, including all the remixes on a bonus CD. The band themselves talk about a journey into inspiration, where pure roots rhythms meet technology - analog and digital technology join mellow, harmonious and precise arrangements.

Seven Dub will return with their 3rd album (Rock With Me) featuring ,once again the smooth and distinctive vocals style of Angelique Willkie ... along with the rocking rub a dub style vocals of fellow Jamaican Zakeya.... from the Dominica ,the berlin based Paul St Hilaire (aka Tikiman)...and lastly, Lone Ranger captured on a recent visit in Paris.

The dub club edition of "Rock With Me" is a special (re) mix and worldwide exclusiv for Collision and enlcosed a clubby dub flavour....!!!

Label: Collision
Catalog #: CCT3006 Collision - cause of chapter 3 /Groove Attack
CD - 17 tracks - 79 minutes playtime

TRACKLISTING:
CD
01. Intro
02. Rock With Me feat. Angelique
03. Running Away feat. Angelique
04. U & Dem feat. Paul St Hilaire
05. It Doesn't Matter feat. Lone Ranger & Angelique
06. Fire feat. Zakeya & Angelique
07. Ashes
08. Untitled Tribute feat. Angelique
09. Stranger feat.Paul St Hilaire
10. Wake Up feat. Angelique
11. My Only Lover feat. Angelique
12. Yvo Riddim
13. Outro
14. Rock with me (original version)
15. Running Away feat. Angelique (Byl Club Mix) 6:00
16. Running Away feat. Angelique (Noiseshaper Remix) 6:34
17. U&Dem feat. Paul St.Hilaire (House Dub Mix) 5:00