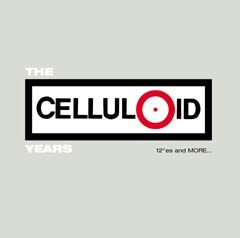 THE LOW DOWN:
1979 was the year that a certain underground movement began its rapid and inexorable ascent. The movement was RAP, and Sugarhill Gang's Rappers Delight became its first international hit. Rap evolved and metamorphosed further to emerge sometime later as the megaselling beast HIP HOP…!

One of the most cutting edge, movement-defining and progressive labels of the time was Celluloid Records, a New York-based label headed by a musical scout by the name of Bill Laswell. His unerring talent for allowing "crossover potential" to shape his releases, thus creating new styles, put the label at the forefront of what was happening; putting it, in fact, years ahead of anything else. Next to rap, Celluloid Record's defining sound was electronic beats. The real sound made lavish use of Linn drums, Yamaha DMX and real turntable scratching - sounds that mass audiences were exposed to a little later on Herbie Hancock's million selling "Rock It". Of course, the people behind the pianist Herbie H. were Bill Laswell and DJ Grandmaster D.ST... The other young stars of the movement were Fab Five Freddy (Change The Beat), Afrika Bambaataa - the guru of the Zulu Nation movement - and the famous graffiti artist Futura 2000. Bill Laswell brought them all to Celluloid, as well as Jalal, one of the very first poets (rappers?!) with the Last Poets, The Clash (with Futura 2000), the head of the Sex Pistols, John Lydon (with Afrika Bambaataa) and the African saxophonist Manu Dibango (with Deadline and as a solo artist). It was as if a gigantic cocktail had been mixed in the fecund melting pot of the Big Apple and sprayed over the pop markets of America and Europe.

This compilation contains essential Celluloid Records listening, and it focuses particularly on 12" releases, remixes, b-sides, dub versions and very special remixes, like the Francis Kervorkian and Paul Groucho Smykle remix of Afrika Bambaataa's mega-hit "Time Zone" (co-produced by Deutsche Wunderwerke) and the 12" version of the classic Lightnin Rod tune - Doriella Du Fontaine - with a little help from Jimi Hendrix (this song is said to have been written in 1969 during a session with Buddy Miles, Jimi Hendrix and Lightnin Rod, aka Alafia Pudim ... vocalist of the Last Poets).

Liner notes by Bart Platenga (Wreck This Mess radiomaker, author of the novel Beer Mystic and Yodel-Ay-Ee-Oooo: The Secret History of Yodeling Around the World [Routledge, 2003], Bart Plantenga is a widely published author of cultural, musical and historical journalism, fiction and non-fiction. His writings have appeared in Reggae, Rasta Revolution: Jamaican Music from Ska to Dub and many journals. He currently writes, DJs and lives in Amsterdam, The Netherlands.)

Artists: John Lydon (Sex Pistols), Jaco Pastorius, Jimi Hendrix, Manu Dibango, Herbie Hancock, Robert Musso (Material), Jalaluddin M. Nuriddin (The Last Poets),Bernie Worrell (Ex Talking Heads Band), Wunderverke, Bill Laswell (Material), Bernard Fowler (Backing Vocalist Rolling Stones) Skopelitis (Material) a.o….!

Label: Collision
Catalog #: CCT3007 / Collision- cause of chapter 3
Formats: DCD

TRACKLISTING:
CD
CD1

1. Futura 2000 with The Clash - Escapades Of Futura 2000 (original 12" version)
2. Time Zone - Wild Style Extended (original 12" version)
3. Grandmixer D. St - Cuts It Up (original 12" version)
4. Deadline - Makossa Rock (original 12" version)
5. The Last Poets - Get Movin
6. D.St - Why Is It Fresh ? (original 12" Megamix 2 version)
7. Time Zone - Wild Style (Francois Kevorkian & Paul Groucho Smykle rmx - original 12" version)
8. Lightning Rod & Jimi Hendrix - Doriella Du Fontaine (original 12" version)
9. Shango - Zulu Groove (original 12" version)


CD2

1. Fab Five Freddy - Change The Beat (original 12" version)
2. Fab Five Freddy - Change The Beat (original 12" French Rap version)
3. Tribe 2 - What I Like (original 12" French Dub version)
4. Shango - Shango Message (original 12" Instrumental-Edit)
5. Manu Dibango - Pata Piya (original 12" version)
6. Grandmixer D.St & Jalal - Mean Machine (original 12" version)
7. D.St - Home Of Hip Hop (original 12" version)
8. D.St - Home Of Hip Hop (original 12" Dub version)
9. Time Zone feat. Afrika Bambaataa & John Lydon - World Destruction (original 12" version - Bill Laswell rmx)
10. Manu Dibango - Abele Dance (original 12" version)
11. D.St - Crazy Cuts (original 12" Long version)
12. D.St - Crazy Cuts (original 12" Dub version)