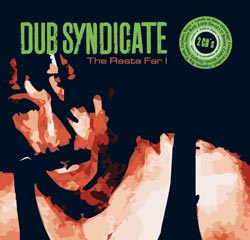 THE LOW DOWN:
"Spoken word, white noises, trancy music that's what we're all about. It's not like a Madonna or Prince thing."
Style Scott

Drummer Style Scott and his loose collective (mastermind Adrian Sherwood of On-U Sound Records in London built the D.S. with Style Scott - after they met during a Prince Far I gig where Style Scott and Flabba Holt were playing in the legendary Jamaican The Roots Radics, Prince Far I's backing band ...) DUB SYNDICATE is probably the most "futuresized" roots dub band since these two started collaborating in the 1980s. The pair produced a brace of great albums on On-U Sound.....a sort of genre crossover, but with definite reggae roots. Style Scott always had the vision of rebuilding Dub Syndicate as a semi-vocal band. Ten years ago he started his own label, Lion & Roots, as an independent division in Kingston, Jamaica.

Well, time has passed by and the tenth anniversary will show the peak of dubstyle inna megamix by Rob Smith (courtesy of Bristol's legendary Smith & Mighty). Rob Smith picked a couple of vocal tracks from the album produced by Lion & Roots: Acres of Space, No Bed of Roses, Mellow & Colly and Fear of a Green Planet, and reconstructed a deluxe dub sound megamix with great voices, wild effects and a deep, rootsy message. Prepare to be whisked away to 74 minute's worth of sub-base with the heavenly dub deluxe experience of CD1!

Dub Syndicate's collective of collaborators reads like a who's who of dub: Bim Sherman, Bonjo, Keith Levene, Keith LeBlanc, Jah Wobble, Mark Stewart, "Deadly" Headley Bennett, Dr. Pablo, Flabba Holt, Prince Far I, Gary Clail, Lee "Scratch" Perry, Andy Fairly [RIP], Michael Franti and many others. But for this marvellous showdown Style picked an essential extended membership: CEDRIC MYTON of THE CONGOS and LEE PERRY-produced "Heart Of The Congos" fame; GREGORY ISAACS, back in full power for "Kingston 14"; former Studio One singer and ex-member of THE UNIQUES and THE ETERNALS and recently rediscovered by Berlin's Rhythm and Sound - CORNEL CAMPBELL who appears here in "Nothing Comes Easy"; the dub poet YASUS AFARI, best known for his collaboration with GARNETT SILK; UPLIFTER from CAPLETON"s DAVID HOUSE CREW, and a host of legends, including Big Youth, Capleton, Luciano, Little David, Gregory Isaacs and Junior Reid. They all make the album more than complete.

CD2 (77 minutes playtime) of this powerful double CD package (available as a two-for-the-price-of-one package) contains outtakes, rare and dub mixes as well as unreleased megamixes. The Double CD contains extended liner notes by the American journalist Bart Platenga.

Most of the tracks and takes were recorded at Tuff Gong studio and CD 1 is over-dubbed by Rob Smith (courtesy of Smith & Mighty) at Smith & Mighyt studio´s Bristol.

Label: Collision - cause of chapter 3 ( an echo beach division)
Title: The Rasta Far I
Artist: Dub Syndicate
Format: DOCD
Catalogue: Collision CCT3009
33 tracks - 145 minutes playtime

KEY SELLING POINTS:
"Best of" Style Scott's own Lion & Roots label catalogue including a full two CD package:

CD 1: Overdubbed by Rob Smith (Courtesy of Smith & Mighty) with vocal contributions by CYDRIC MYTON (THE CONGOS), GREGORY ISAACS, CORNEL CAMPBELL, dub poet YASUS AFARI, UPLIFTER, Big Youth, Capleton, Luciano, Little David, Gregory Isaacs and Junior Reid.

CD2: Outtakes and Rare Mixes plus new Megamixes (courtesy Geller & Adelfang)


TRACKLISTING:
CD 1
01. Nothing Comes Easy / Cornel Campbell
02. Time / Capleton
03. Togetherness / Big Youth
04. Emmanuell / Big Youth
05. One In A Billion / Luciano
06. Sound Clash
07. Jamaican Proverb / Yasus Afari
08. Yes, its bless / Little David
09. Lion King / U Brown
10. No Bed Of Roses / Cedric Myton (The Congos)
11. Dubbing Is a Must
12. Kingston 14 / Gregory Isaacs
13. Higher Than Higher
14. Hard & Tuff / Yasus Afari
15. Greater David / Big Youth
16. God Is A Man / Junior Reid
17. Creation


CD 2
01. INTRO
02. PATIENT MAN
03. EMMANUEL (Version II - Edit)
04. CREATION (Alternative Mix)
05. YES IT'S BLESS (Alternative Take)
06. HEY GEOFF (Extended Loop Mix)
07. NO BED OF ROSES (Alternative Take)
08. DUBBING IS A MUST (Extended Loop Mix)
09. WELL COLD
10. ONE IN A BILLION (Dub)
11. TIME (Reggae Arena 'Style Scott' Special)
12. NOT A WORD w/ GOD IS A MAN
13. JAH RASTA (Single Mix)
14. ZIGGY (Jamaican Session Demo)
15. TWIN SPIN (Jamaican Session Demo)
16. STYLE SCOTT SPEAKS (A Few Words)