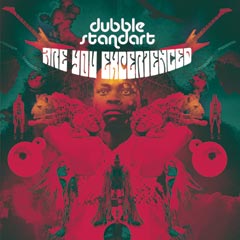 THE LOW DOWN:
Out of Vienna - Dubblestandart is working since the early 90's for Dub Music as their musical direction - combining mid-european inspirations with their love for reggae music. Their first release Front Of Enemies, dated 1990, starts a series of productions during the 90s focusing on dub , flexing electronic tools,analog delays & synthesizers- its a vintage thing u got it- with reggae beats, while experimenting with a lot of styles being reggae untypical. Working also as a backing band for Dillinger, Lee Perry, Topcat or Lilian Allen on their European tours made them also become a strong live- formation, always adapting their songs into session - styles responding to the vibes of each audience interacting with them while dubbing them .

After their well reputated longplayeralbum Streets Of Dub on Select Cuts in 2002, DS brand new album, but also remixes with artists from the inter - and outernational dub scene, like Dreadzone, Sly & Robbie, Manasseh, Mad Professor, Keith Le Blanc, Seven Dub, Sounds From The Ground, Mikey Dread and Carl Douglas became a big spot in 2004 - specially the collaboration with Carl Douglas and his well known and famous Kung Fu Fighting.

In 2005 Dubblestandart recorded a new album and started as a backing band for New Age Steppers female singer Ari Up. A United Kindom and US/Canada tour is in preparation for Dubblestandart and Ari Up in 2006.

After the Heavy Heavy Monster Dub release which showed, that Dub music is not just reflecting a higher need in the public for contemporary contra-commercial - spaced out -music with a roots touch, but also that Dub music might move from behind the mixing desk to the front of the stage. With powerful instrumentalism and a ability to reflect vibrations of a freaking planet.... the ARE YOU EXPERIENCED brings you to another level and dimension. More Vocals, more sounds, more song writing and more of So dub to be good...Vibes!!!

The ARE YOU EXPERIENCED release is a proper double CD with twelve brand new tracks and a CD with unreleased and older remixes and versions which are not available anymore...! Please note the3 bonus videos ....!!!


Label: Collision - cause of chapter 3 ( an echo beach division)
Title: Are you Experienced ?
Artist: Dubblestandart
Format: DOCD
Catalogue: CCT3010-2
23 Tracks/3 Videos - 139 Minutes playtime
Release date: 23.05.06

KEY SELLING POINTS:


TRACKLISTING:

CD 1

01. Heights Of Paranoia feat. Camel
02. The Message
03. Everything Is Go
04. Love Can Grow feat. Nic
05. Angels Fly feat. Nic
06. The Rhythm feat. G.Rizo
07. Senses Of Woman feat. She Says
08. Island Girl feat. Ari Up
09. Kingston Now
10. Summerrain feat. She Says
11. Heights Of Paranoia (meet you at the dusthangar seven dub)
12. Star Spangled Dub

CD 2

1. Streets Of Dub (Anxiety Dub)
2. Heavy Heavy Monster Dub (Dreadzone Instrumental Remix)
3. Preemptive Dub (7 Dub vs. Sly & Robbie remix feat. Burle & Aminata)
4. Greetings from Evil Empire
5. Heavy heavy Monster dub (Manasseh Instrumental Remix)
6. Return From Planet Egalica (Freedom Satellite Remix)
7. Return from The Planet Egalica (Superlistener Dub)
8. Dub Is The Roots feat. Mikey Dread (Mad Professor Remix)
9. Playerhater (Bun Dem Dub)
10. Terrorists & Inhalers (Keith Le Blanc Remix)
11. Heavy Heavy Monster Dub (Sly & Robbie Instrumental Remix)
Video - Heavy Heavy Monster Dub
Video - Playerhater