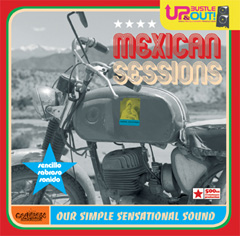 THE LOW DOWN:
The 8th album by the colourful band Up, Bustle & Out is ready for release - featuring an exciting & fun international crew, one funky video, a whole host of remixers from across Europe, USA and Mexico. If you have seen the films 'Camores Perros', 'Raising Victor Vargas', 'Volveras', or 'Motorcycle Diariesc', heard the exciting sounds and fusions taking place across the USA, Central America and the Caribbean, & been moved by these rhythms, then this album will capture your imagination.

'Mexican Sessions - Our Simple Sensational Sound' captures the feelings and ease of a musical journey. Up, Bustle & Out went to Mexico in 2003 to collect an award for Mexican film music. Being loved for their Latin fusions, their presence created a little buzz, collaborations were quickly formed. A bus journey passed the temple of the Moon & Sun and delivered them at the doors of the northeast Mexican city Monterrey, to meet platinum selling Hip Hop band Control Machete (who also feature on Cypress Hill albums!). Control Machete are big and deeply involved in Cumbia Music experimentation. In short, what was to be a 12Inch single first, grew to an album. Up, Bustle & Out embraced a fresh musical challenge without any phone calls or industry concerns. The 'Mexican Sessions' was born in Monterrey, Mexico, then went north to California & NYC, glided over the Caribbean islands of Puerto Rico & Jamaica before landing safely again in Europe.

The Collaborators: Control Machete, DJ King Ruly & Media Selectah of Sistema Local Sound System, California's Romanowski, Subrok Mission & the vibrant personality of Latino TV, Blanquito Man….

The Instrumentation: Trumpets from Colombia, Flamenco guitar, Sax, Vocalists, Double Bass (by Jim Barr Ex-Portishead band), moody rhodes & funky swelling organs, flutes, mountains of fascinating percussion from congas to cous cous packets, cactus seeds, cocunut shells, flotsam & jetsom from the ubiquitous Pacific Ocean. And music for UB&O would not be the same without moments of natural ambience recorded in stereo en route.

The Guardian newspaper ran a feature on Toy (Mexican Hip Hop producer of Control Machete)… He is seen walking the northern state deserts with a Sound System in tow. He is seeking to take Cumbia to that next level. This is what UB&O achieve with this album: The 'Sound System' fused and rooted in Jamaican DJ-Producer culture, married to the pulsating simplicity of Colombian Cumbia grooves that have grown from the sparky blend of shotguns & accordions. King Chango's vocalist Blanquito Man has the headphones on, he hears the Bristol to Brooklyn sound. NYC collective The Fragment Crew drop versus mixing English, Spanish with Rastafarian vibes. King Ruly dubs a master trumpet workout from the Sistema Local Sound System base. It's Latin. It's Hip Hop. It's Cumbia. It's new – a modern & revolutionary surround sound.

Prolific creative output of experimental street grooves & fusing Caribbean rhythms with Mexican spice. - Arriba!

PS.
UB&O are currently remixing Thievery Corporation (USA) & Dragon Ash (Japan) ... !!!
TRACKLISTING:
All Out King feat. Romanowskiy
Mi Chat Latin feat. DJ Mexican
Genio Del Dub (Control Machete Remix by UB&O)
Corazon De Leon (Subrok Mission Remix)
Chicharras Night (Chico Sonido Remix)
Bristol Brooklyn Bridge feat. Blanquito Man & Fragment Crew
Mundo Insolito (Toy Selectah / Control Machete Remix)
Cumbion Mountain (Cico Sonido & Toy Selecta)
Lyrica Volcanica (Dub Mix)
Tinto Tintero
Mi Altar Voy A Armar
Nina (Air Remix)
Corazon De Leon (Kabanjak Remix)
Day at The Bookies (Romanowski Remix)
Guitar Ahoy feat Cuffy El Guapo Flamenco Guitar