"Explore the fire and brimstone of mixing desk experimentation and smoking grooves, that led into the bewitching masterclass of the future dub club class"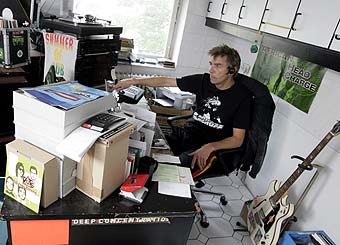 A combination of historically and geographically significant numbers led the former On-U Sound (African Head Charge , Dub Syndicate, Tackhead a.o.) and Crammed Discs (Zap Mama and Taraf De Haidouks) label manager for Germany, Austria and Switzerland Nicolai Beverungen - to finally come into his own world of label life.

Nicolai Beverungen´s "dub" taste is one of the liveliest dub sources of where roots meets virtual where earth meets sky, where tropic meets psychotropic.
The feeling of communication between dubstars and dub purveyors from various corners of the universe. Nicolai Beverungen is also running the internationally well know imprint´s ECHO BEACH and SELECT CUTS. He also discovered German´s reggae no.1 top act SEEED from Berlin and few years ago and brought them to Warner Brother (WB) in Europe.
Collision contains Music to progress and explore new regions, tickle new parts of the earbrain.
Nicolai Beverungen intends to keep digging into the past and reinventing the futures we have already been through.
Collision is one of the more committed labels stretching the beats and the entire sonic boundaries of dub beyond what ears have grown used to.
Crossover potential and flavour to leftfield, downbeat, hip hop, punk, industrial, jazz, avantgarde, dance, rock and Pop is label philosophy and welcome...!
Collision contains the aspect of the entire phenom of remixes because it forces up the anty and creates a discourse between the notes and beats that has a way of filtering out attitudes so that we are left with fresh sounds that might be called OTHER World Music with roots in the cosmos.